From humble beginnings as a hobbyist in 2008 to a full time custom shop with clients worldwide, Three Mutts Customs is the #1 choice for one of a kind custom bike leathers to personalize your ride.
I started out like most builders, as someone who loves to ride, with a desire and dream to make higher quality products than what was being offered. With a background in painting, wood carving, product design and digital media; leather was an easy transition. I started out small in 2008 making items for myself and friends. In 2010, my work had gained enough attention that it became a side business.
Fast forward to 2015, events at my corporate day job left me with a decision...look for another 9-5 behind a desk or take the leap with leather and take Three Mutts Customs full time. Here we are on the cusp of 2020 and we've been blessed to keep rolling as a full time shop delivering custom, high quality bibs, bags and off the hook custom items for clients in all 50 states and 25 countries!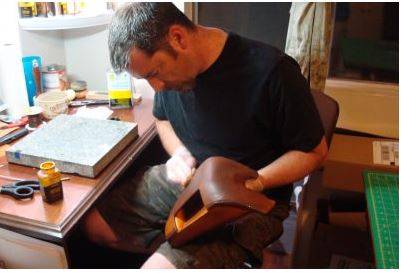 Back in the early days, working out of my small space
in the living room.
As a rider and greasemonkey/maker, I understand the passion you have for riding and customizing your bike. I strive to build the best leathers in the motorcycle market, using only the highest grade materials such as Hermann Oak A grade cowhide, Australian Kangaroo lacing and Fiebings Professional grade dyes and finishes. Your artwork may not always be to my taste but the translation of it from your ideas to my leatherwork will always be to the best of my abilities.
I started competing in International Leatherworking competitons in 2013. First showing was at IFoLG Denver in September, Three Mutts Customs walked away with:
First Place in Motorcycle Accessories - Advanced Division
Best in Category- Motorcycle Accessories
Also in 2013, I began writing for the Leather Crafters and Saddlers Journal as a recurring writer for the Urban Leather catagory, Motorcycle Leather projects. You can check out the magazine here: http://www.leathercraftersjournal.com/
In my shop, rule #1 is: If I wouldn't be proud to have it on my bike, I won't ship it.
My first 'client' was actually my wife Jen. After seeing a few items I had built for my own bike, she asked for a few for hers. While she hasn't ridden in a long while, this awesome woman has supported me, the late hours and my sometimes crazy ideas over the years.
Now, with two beautiful daughters, three dogs, two cats and a fish we'd be more aptly named The Zoo.